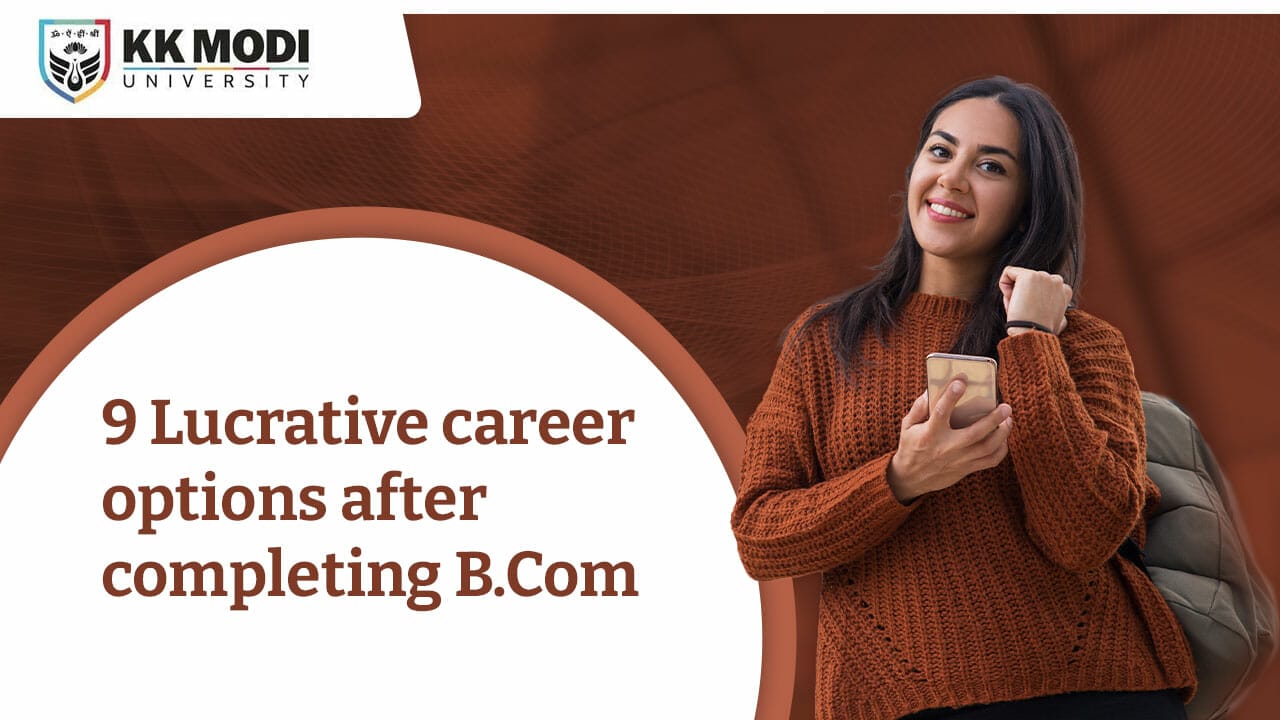 9 Lucrative Career Options After Completing B.Com
B.Com, the undergraduate course, is opted for by many students every year. It acts as the perfect base for professional Finance certifications or a full-time Finance degree. B.Com students, however, are not limited to just Finance jobs and courses. They are in a particularly advantageous position as they can even pursue Marketing jobs and Management courses like MBA.
Universities like the KKMU have B.Com along with several postgraduate offerings. Students graduate trained and ready to work in Finance. Many also choose to opt for master's courses or earn a professional degree.
What are these options in courses and jobs that B.Com students can apply for? Let us read on to find out more.
Career Options After B.Com
M.Com:
The first and obvious choice for career opportunities after B.Com is M.Com. The Master of Commerce is a continuation of the undergraduate degree. Students are taught more advanced topics in Finance. Besides education, students also learn proper skills to use their education in the workplace. The two-year long programme is perfect for students who wish to work in BFSI, taxation, or accountancy. After graduation, individuals can work in the capacity of an Accountant, Finance Manager, Account Executive, etc. With this students can end up bagging higher packages. Admissions typically take place on a merit basis of the B.Com aggregate score. However, some universities do hold their entrance tests.
MBA:
Probably, the most popular choice for a postgraduate degree after B.Com is an MBA. This two-year-long course will help B.Com students to switch industries to management jobs. The MBA is an all-rounder degree that teaches students different aspects of running a business. From Marketing, Operations, and Finance to Human Resource Management and more. When discussing the scope after B.Com, an MBA tops the list as it will help students find jobs in national and international corporations. Admissions for MBA are competitive and one must have a national, state or university level test score like CAT, MAT or SNAP.
Chartered Accountancy (CA):
One of the best career options after B.Com Hons or regular B.Com are the professional courses the students become eligible for. At the top of the list of such courses is Chartered Accountancy. One of the hardest courses to complete, it is also prestigious and opens up jobs in the higher range. The CA course is completed in three different stages, namely, CPT, IPCC and the Finals. There is also an internship at the end of around 2.5 years. Chartered Accountants can find employment at companies like Delloite, KPMG, Mckinsey and Company etc.
Company Secretary (CS):
Company Secretary is a course that teaches students about managing a company's taxes and legal affairs. This is a management job that involves talking with the directors and higher-ups in the company. Like with Chartered Accountancy, Company Secretary also has three stages to complete with an examination at the end of each stage. The stages are Foundation, Intermediate and Finals and all three stages can be done within three years. Students who have done their class 12th examinations can apply to the CS course and complete it while studying for an undergraduate degree.
Chartered Financial Analyst:
The title of a Chartered Financial Analyst is earned by an individual who is trained in investment and portfolio management. Other topics that a CFA learned are Risk Management, Asset Valuation and how to apply these tools and information. These professionals then go on to be hired in companies where they help them build their wealth. CFA courses are also completed in three levels with an examination at the end of each stage. Unlike the CA and CS courses, CFA accepts individuals with bachelor's degrees. The eligibility criteria also state that the individual must have work experience.
B.Ed:
One of the more beneficial but equally popular courses to pursue after B.Com is a Bachelor of Education. Individuals who wish to venture into teaching at the school level or university level can enrol on this course. It is a two-year long programme that will teach students with tools to teach. Understanding the psychology of students, educational policy, teaching technology, and subject-wise in-depth learning is also done in the B.Ed degree. B.Com students need to have at least a 55% to 60% aggregate score to be eligible for B.Ed.
Marketing:
Working in Finance with a B.Com can be routine and tiring for some people. For more creative job opportunities after B.Com students can go for Marketing. Marketing especially Digital Marketing has become a popular choice among students today. There are both short-term and full-time courses in Marketing. These courses are fast-tracked and will teach the basics of working in a Marketing job including concepts of SEO, SEM, email marketing, SMM, content marketing etc. From researching for a campaign to designing the campaign and tracking its performance, all fall into the gambit of marketing.
Certificate in Investment Banking (CIB):
The Certificate in Investment Banking helps B.Com students build a career in investment banking, hedge funds, and private equity. Investment Bankers help improve the financial standing of their clients and they do so by giving advice on the best investment opportunities. These professionals have international certifications and are also taught different tools to conduct financial analysis. Definitely counted among one of the best courses after B.Com, the Certificate in Investment Banking is around 6 months long. Investment banking provides you with really lucrative and big paychecks.
Certified Management Accountant (CMA):
To wrap up the list of career options after B.Com there is the Certified Management Accountant. Probably the best certification for Management Accountants, the CMA helps one to answer the why behind numbers. The course covers several topics ranging from both management accounting and also financial management. Being an international certification, individuals with this certificate can also work internationally. The course has two stages with two examinations and one must also have prior work experience. From a minimum duration of 6 months, the maximum duration allotted to complete the course is three years.
When talking about the best career options after completing B.Com, it is important for students to analyse their strengths and passion. There are many courses to switch careers to management or marketing. On the other hand, there are also professional finance courses that are not only nationally accepted but internationally valid as well. It is advised to take the time to research and understand the choices available and the career path of each.