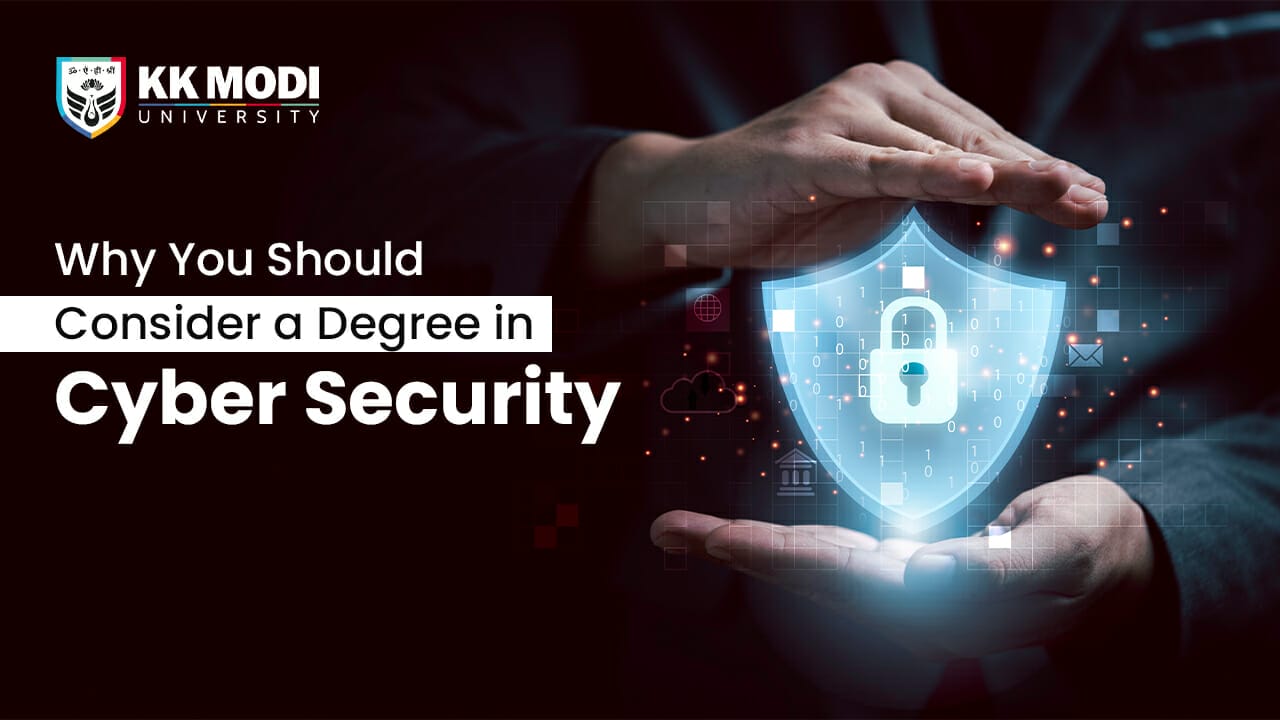 Why You Should Consider a Degree in Cyber Security
With the sudden boost in online activities, cyberattacks and data breaches are more common with web apps. According to the 2019 Cost of a Data Breach study, India had the most records compromised, followed by the United States and the Middle East. Cybersecurity was created as a result of the surge in illicit activities and the theft of verified information. Cybersecurity serves as a kind of system guard that guards against malware and suspicious attacks. It involves methods that can guard against the loss or deterioration of electronic parts, hardware, software, or any other type of service
Introduction To Cyber Security
Techniques that aid in protecting various digital components, networks, data, and computer systems against illegal digital access are included in the field of cyber security. Depending on the network you are connected to and the types of cyberattacks you are vulnerable to, it safeguards your data. In technical terms."The process of protecting computer systems from unauthorized access, use, or tampering with them." The cyber security masters course teaches the students how to identify these vulnerabilities that can exploit the data and help prevent the loss of such information and data. Before knowing about cyber security measures you should also be aware of various cyber attacks that any individual, public or private organizations are prone to.
Malware Attacks:
Trojans and spyware are only a couple. Your machine will become affected by harmful viruses included in those attachments if a hacker sends you any links or if you visit any doubtful websites and download any suspicious attachments.
Phishing Attacks:
Hacker sends you fraudulent emails or messages which appear to be from legitimate websites or web apps. You give your information, and then they get installed in your device and steal the information including login credentials and credit card numbers. It is commonly done through emails.
Man In The Middle Attack:
Hackers intercept an existing conversation between the user and an application making it appear a normal exchange of information is underway by taking over an IP address.
Password Attack:
When you use a password that is quite simple and can be easily cracked by trying some alphanumeric combinations your device is more prone to such attacks as attackers can easily crack the password and steal your information by having access to a specific application.
Why You Should Consider A Degree In Cyber Security?
CYBERSECURITY JOBS ARE IN HIGH DEMAND: As you know most business and government organisations stores their data online and that increases the chance of cyber attacks so to prevent further damage companies hire security professionals and as we know everyone knows online so there is a high rise in demand of these professionals and also cyber security salaries are high with average salary 8-9 lakhs per year.
LEARNING A NEW SET OF SKILLS: Cybersecurity is a dynamic field where people from all types of background works together, so you can learn those skills from them like administration, management, or any other skill while also learning about cybersecurity skills as these skills are in itself a new set of skills.
AN OPPORTUNITY FOR GROWTH: Cyber security is a fast-growing field with so much potential to reach higher opportunities, there's a higher demand for professionals and these jobs are always in demand and there is no scope to slow down this process or no vacancies in this field.
VAST AREA OF FIELD: This field is applied to every sector whether public or private organizations to even nonprofit organizations, everyone wants to protect their credential information rather than endure cyber attacks, so you'll be able to choose any sector that fascinates you.
INTERESTING RATHER THAN BORING JOB: as we know new technology brings new and challenging risks so you'll be introduced to handling new problems with your creative abilities, which can make you the star of the organization. You'll always be given challenging and complex problems, which would never be boring to solve.
Also Read: The Future of Cyber Security in a Nutshell
Cyber Security Courses After 12th
B.Tech In Cyber Security:
it is a 4-year degree course offered by various institutions after the 12th. The eligibility for Btech cyber security program is at least 50% marks in 12th with subjects like physics, mathematics, and chemistry from any recognized board. Some universities also accept exams like JEE Main, and JEE advance.
Mtech In Cyber Security:
Students can pursue this degree after their Btech in Cyber Security or any equivalent discipline. It is a 2-year postgraduate program which will provide students with advanced information in the field of cyber security in depth. Students must score at least 50% in graduation to pursue MTech in cyber security.
Phd In Cyber Security:
Phd in Cyber Security is the most higher degree in the cyber security domain. The minimum duration of this course is 3 and the maximum is 5 years. To get admission in Phd program, students must have at least 60% of marks in their Mtecg degree.
Diploma In Cyber Security:
It is a certified course generally lasting 1-2 years which includes the study of computers, information security, data structures, design analysis of algorithms, and business and mobile computing. The minimum qualification is passing 12th from a recognized board and entrance exams are also conducted such as CET and JEE advanced.
Apart from Btech, Mtech, Phd and diploma in cyber security, some students also opt for cyber security certification courses.
Also Read: How B.Tech Course can Help you Advance your career?
FAQs
Ques. What are jobs related to cyber security?
Answer. There are many jobs in the cyber security field:
Cyber security analyst
Ethical hacker
Security architect
Chief Information Security Officer (CISO)
Ques. Is Cyber Security a good career choice in India?
Answer. Yes, cyber security nowadays is in huge demand due to continuous cyber attacks so everyone needs cyber security professionals to safeguard their digital Information.
Ques. What are the best cybersecurity companies?
Answer. There are many cyber security companies that provide you top-notch security:
Quick heal technologies
McAfee
CyberSniper Solution
Silent Breach
Ques. What programming languages are required for cyber security?
Answer. There are many skills that are essential for cyber security but the main language is python as it is highly popular among cyber experts and you can also learn javascript, C, C++, and PHP.
Ques. What is the salary of a cyber security professional?
Answer. As we know this field is in high demand, and so are the salaries. Cyber security professionals can earn up to 60,000 per month and it keeps increasing as a high role.
Ques. Is cyber security the future?
Answer. As new technologies come, new risks also come with them, so there is a huge need for cyber security. The internet is not going anywhere just expanding, so there is only a chance for potential growth and opportunity in the field of cyber security.
Ques. Which is the best university for cyber security programs?
Answer: KK Modi University is the best university among all private universities for cyber security programs. It offers Btech, Mtech, Phd and a diploma in cyber security.