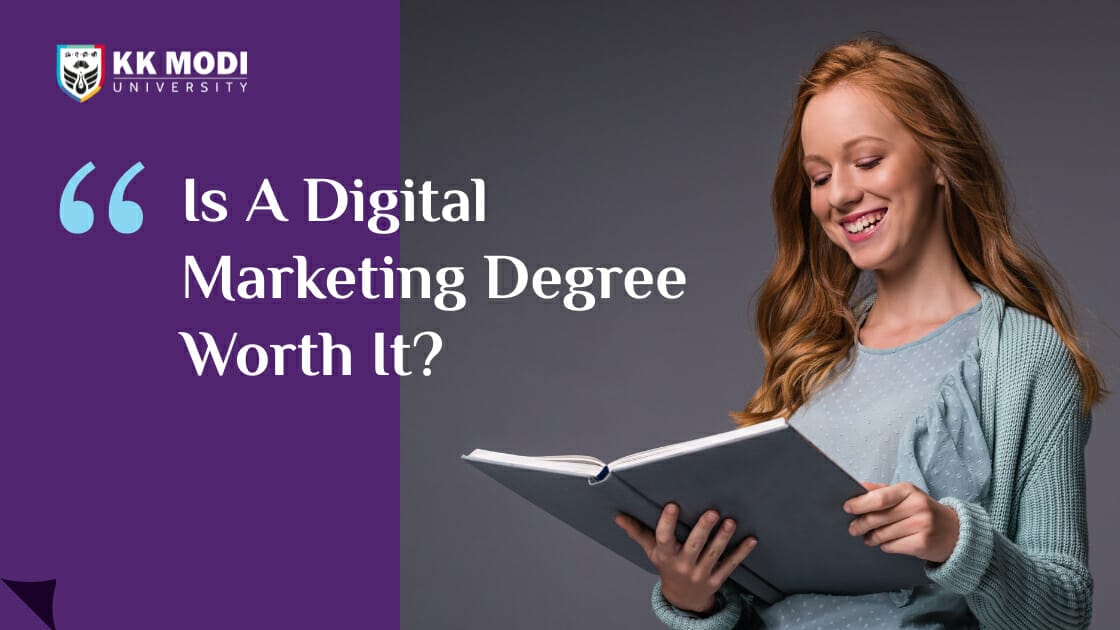 Is A Digital Marketing Degree Worth It!
Students, Digital Marketing degrees can be a great way to break into the digital marketing industry. Depending on your career goals, a digital marketing program may be a worthwhile investment. They are becoming increasingly popular as companies look for highly skilled digital marketing professionals who understand the complexities of the digital advertising world. Therefore, this degree is an essential tool for success in the modern marketplace as it trains you to stay ahead of the competition. With the right degree in digital marketing skills from a reputed university offering well curated high in-demand specializations, you can gain skills necessary to stay up-to-date on marketing trends and develop effective digital marketing strategies.
Team KKMU has a rich legacy in education and wants to give some valuable insights to those of you who want to position yourself as an expert and a cut above the rest.
Here we share an article in The Outlook magazine narrating Mradul Mishra's journey from a middle-class household in Kanpur to a well-known influencer in the realm of digital marketing career. His marketing firm, Digital Leaf Marketing, which he founded, is now the go-to choice for many leading brands. Read on to know more https://bit.ly/3IkRpUF
Here is another interesting article on the importance of Digital Marketer in B2B Business featured in Indian Retailer.com by Ankit Gupta, CEO & Director at Exporters India, one of the largest searchable business marketplace in India. Click here to read more https://bit.ly/3BA92ft
Team KKMU recommends 3 valuable tips that will make your career in Digital Marketing degree worthwhile:
Do Specialization From The Right University
Identify university which are prestigious and are recognized. Consider specializations offered in a specific area such as Artificial Intelligence, Computers, Cyber Forensics, Cloud Computing & Virtualization, Cyber Security
Machine Learning, Information Technology, Data Analytics, Mobile Computing, etc to acquire in-depth knowledge that sets you apart from peers. More importantly university offering internships is an ideal choice as it increases your employability.
Network, Adapt & Stay Ahead
Continuously learn and adapt to stay ahead in the industry. Visit social networking sites, become member of communities who share the same passion / interests as you – these are great places to connect, find information, answer questions, share knowledge, and network. meet the faculty and attend a demo class to learn digital marketing. Build resumes which incorporate quantifiable results or achievements to showcase your skills and abilities to land that dream digital marketing job. Most importantly attend industry conferences, read industry blogs and publications to stay well informed.
Use AI Tools To Master Digital Marketing
Start leveraging artificial intelligence tools It's easier than you think!
Students, whether you're interested in working for a major corporation or launching your own startup, there's never been a better time to start exploring this exciting and rapidly evolving field. So why wait? Sign up for a best Digital Marketing Course in Chhattisgarh  today and see where your passion can take you!