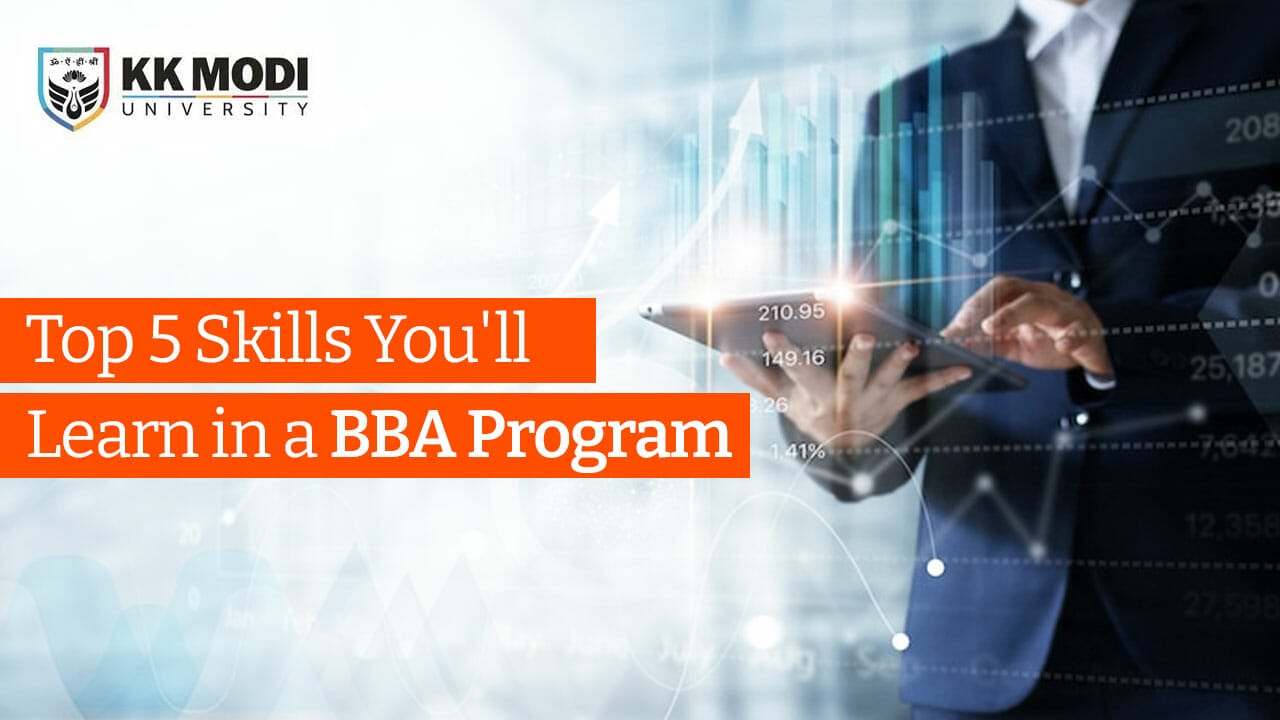 Top 5 Skills You'll Learn in a BBA Program
Today's generation is one of dreamers and entrepreneurs. With ever so increasing growth and development of businesses and every other person starting a small business in our country, the demand for courses like BBA and MBA has been skyrocketing over the last decade.
Before we learn the skills you learn during the course of their BBA program, here are some important and crucial skills a person should have to pursue a career in business administration:-
Being able to read the country's economy.

Taking an entrepreneurial approach with every concept.

Communication and networking.

Problem-solving and critical thinking.
What is a Bachelor of Business Administration?
Bachelor of Business Administration is a 3-year undergraduate program. BBA is a well-regarded professional degree that is perfect for students looking to advance their careers in industry, the public sector, academic institutions, or entrepreneurship. Bachelor of Management Studies and Bachelor of Business Management are two other names for the degree.
As the name suggests, a bachelor's in business administration is a course that focuses on the study of the core concepts of business management. Other important academic topics related to the academic discipline of business management are frequently included, they are accounting, economics, finance, marketing, and many more.
This course has seen significant improvements over the past ten years as it has adapted to the varying demands of different sectors, such as managerial, administrative, and human resource management duties. The scope of BBA is extremely wide and flourishing. BBA courses open the door to countless attractive career opportunities.
If you want to play a significant role in the business world or are thinking about starting a business, you don't necessarily need an MBA. The BBA program is designed to provide a comprehensive foundation in business management, and it can help you find employment in reputable companies in managerial or administrative positions.
What TOP 5 SKILLS LEARNT IN BBA PROGRAM:-
While studying at top-notch universities like KK Modi University, students will learn many skills in the BBA program.
Having a BBA can give you numerous beneficial career skills, such as:-
1)
Updated Technological Knowledge
These programs offer up-to-date instruction to help you use business technology and other tools to your advantage when you enter the workforce.
A graduate of business administration has to employ technological abilities needed for business employment.
Many technological and software skills are taught in a BBA course in order to prepare students for a real-life workforce situation as most companies deal with a large number of technological equipment to carry out their business.
Nowadays technology and technological equipment significantly affect the way a business is run. Depending on the size of your business, technology may offer a number of advantages that will help you boost sales and produce the products that people are demanding.
Technology promotes expansion and enhances the daily operations of a company and a business administrator is often in charge of handling such operations.
It also enhances corporate communication and optimizes production, inventory control, financial record-keeping, etc.
Without leadership, all other corporate resources are ineffectual. Leadership is the key component that makes everything function together flawlessly.
Since many BBA courses demand group collaboration, students frequently have the chance to assume leadership positions. These positions could include group leader or organizer, which have a lot in common with managerial roles in a formal company setting. You may hone your leadership abilities and learn how to manage various project scenarios by taking advantage of these leadership changes.
In management or senior roles within an organization, your business career may improve thanks to your demonstrated leadership abilities.
In the workplace as a BBA graduate, strong leadership can strengthen and encourage collaboration, foster a sense of altruism, inspire motivation and trust, or offer purpose and direction.
An important part of being a business administrator is to bring out your best innovative and creative abilities into your work. BBA prepares you and teaches you the knowledge and skills to produce products and services that meet the needs and desires of the customers.
The b-extensive school's research of various case studies over time helps students hone the talent of identifying unmet market demands.
Unexpected difficulties are a given in business. You can grow your business and stay ahead of the curve with the aid of innovation.
The inventive world fosters exploration and innovation. There is room for unrestricted idea exploration in the area of business, as long as it results in productivity growth and effective development for the company.
4)
Entrepreneurial Mindset
The BBA program teaches you how to apply new ideas, methods, and perspectives to business and projects which helps you develop an entrepreneurial mindset.
With the aid of the structures and methods they have learned at the business school, the program helps students develop confidence and assurance in their business idea.
Entrepreneurs who are successful view difficulties, errors, and failure as chances to learn new skills that will aid them in the future. You can accomplish such objectives as a business administrator by thinking with an entrepreneurial mindset.
A few characteristics to help you develop an entrepreneur mindset are the ability to confront self-doubt, having a sense of accountability, being resilient when required and a willingness to experiment- for the world is built on experimentation and a "not giving up" attitude.
Business administrators are instructed to put out the efforts necessary to develop specific soft skills in order to succeed in the business world. The following list includes some of these abilities: –
Decision-making:
A BBA graduate should be able to make specific judgments, whether they are hasty choices that must be made quickly or deliberate, well-researched choices that will benefit the success of the business and the projects they are working on.
Analysis and reasoning:
A smart business administrator should be able to reason and think assertively about a scenario as well as analyze a situation properly to bring about the most beneficial outcome for the company.
Critical thinking:
In the corporate world, it's crucial to skilfully conceptualize and evaluate data obtained from observation and experience before acting.
Communication and networking skills:
Since networking is the foundation of business, a business administrator needs to be excellent at both verbal and nonverbal communication in order to successfully build networks and relationships with clients, organizations, manufacturers, and other parties.
Body language:
It's critical for a company administrator to project a professional demeanor and to be able to read specific body language cues when speaking with others in order to decipher hidden meanings. This can assist both you personally and the business in making decisions on certain actions.
Other skills taught in the BBA program:-
Management:- Organization Structure, Productivity, Leadership.
Economics and Analytics:- Market Trends, Supply, and Demand, Elasticity.
Marketing, Sales, and Public relations:- Marketing analytics, Brand Management.
Managerial:- Auditing, Tax.
Finance:- Fixed Income Securities, Valuation Models.
Market Trends:- Supply and Demand, Accounting.
Business Law:- Regulations, Organizations, Legal Risk, etc.
Courses other than MBA to pursue after BBA to further improve your skills
Students can do many courses after BBA such as an MBA in Supply Chain Management, MBA in Mass Media, and MBA in Sales & Marketing. It entirely depends on the candidate's preferences, areas of interest, aptitude, and skill set. The following Post-Graduation (PG) courses are available to candidates.
MMS (Masters in Management Studies):-
The ideal MBA substitute is a Master of Management Studies (MMS). If you are wondering after BBA which course is best, the answer is Masters in Management Studies.
Duration:- The government-recognized colleges provide MMS programs that last a total of two years.
Eligibility:- Those who received a graduation grade of at least 50% may enroll in the MMS program. Candidates for a Master in Management Studies may potentially be in their final year of study.
Skills learned:- The student will learn management skills through the MMS course. In addition, candidates can learn how to be entrepreneurs.
After completing the MMS course, there are numerous management positions with lucrative compensation packages available
.
Post Graduate Diploma In Management:-
Candidates who do not want to complete an MBA program might pursue a PGDM (Post Graduate Diploma in Management) program.
The distinction between an MBA and PGDM is minimal. In essence, MBA is a degree program offered by universities, whereas PGDM is a diploma program delivered by an independent agency.
The nicest thing about the PGDM program is that it can be finished in a year.
IIMs and XLRI entrances are quite competitive. Candidates can enroll in a PGDM program at a college or organization offering a mid-level MBA.
BBA OVERVIEW:-
Before enrolling in this program one should know its Admission process, eligibility criteria, top colleges, and career options.
Admission to BBA Program and Eligibility
ELIGIBILITY:- To enroll in the BBA degree, a candidate must successfully complete the 10+2 program from any stream with at least 50% in key subjects like English.
ENTRANCE EXAM:- Appear in KKMU Admission Test at University Campus, Durg if not attempted any National/ State Level Test/ JEE/ CAT/ MAT/ XAT required for selection in KKMU programs.
SKILLS TESTED:- The English Language, Reasoning Ability, and Quantitative Skills of applicants are assessed on the MCQ BBA admission exam.
Top Colleges for BBA
KK Modi University (KKMU) is located in Mahmara, Chhattisgarh, and is one of the best universities in the state offering business administration courses like BBA, MBA, Executive MBA, Ph.D., and DIPLOMA.
Shaheed Sukhdev College of Business Studies, Delhi University
Christ University, Bangalore
Jai Hind College, Mumbai University
Average fees:- 3 lakh per annum.
Also Read: Know the Difference between MBA and Executive MBA
Career options after BBA:-
The average salary of a BBA graduate in India starts from 2,50,000 Rs p.a. and can reach up to 8,00,000 Rs p.a.
Some desirable jobs and fields are stated below:-
Human Resource
Digital Marketer
Sales Executive
Marketing Manager
Senior Finance Executive
Business Analyst
Finance
Conclusion
Best skills can only be learned through professionals. And in this term, KK Modi University works amazingly. It has the best team of faculty that teach BBA programs as per international standards so that students can survive in both local and international market space.