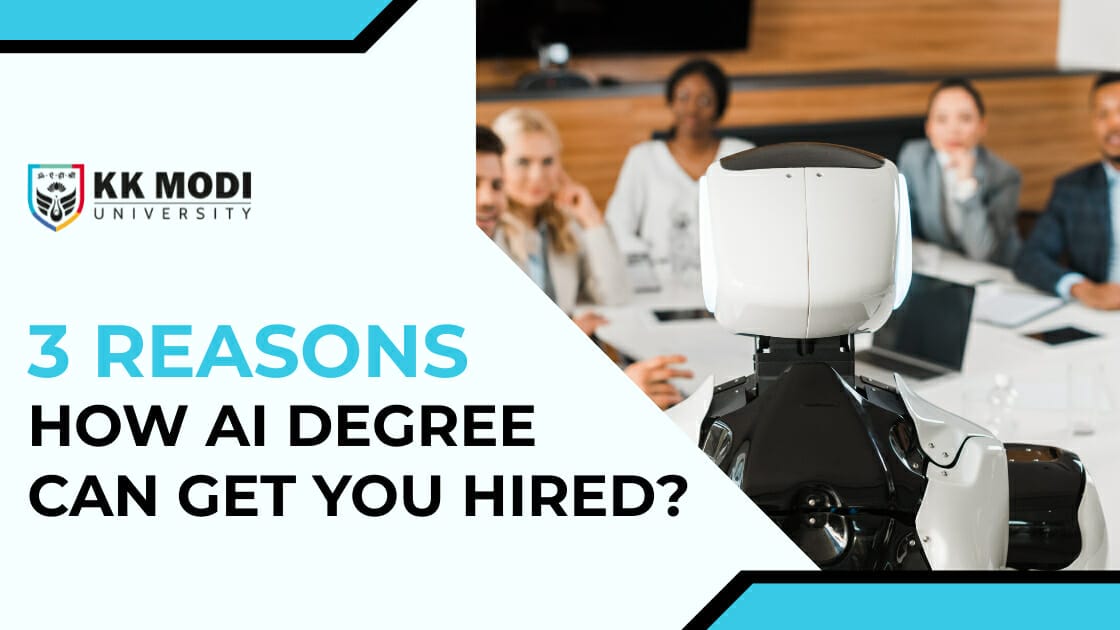 Students as you know that India is quickly developing into a hub for artificial intelligence (AI) innovation, and the demand for skilled professionals in this field is skyrocketing. Industries across all sectors are looking for professionals who have a deep understanding of this technology. As businesses continue their digital transformations, having an expert on board who understands both the technical side of things and how to use AI& ML to drive results is key. With these reasons alone, it's no surprise that companies are eagerly seeking out those with AI degrees. Therefore, if you're looking to make a big impact on the world of technology, then an AI degree could be your ticket to success.
Team KKMU has a rich legacy in education and wants to give some valuable insights to those of you who want to position yourself as an expert and a cut above the rest.
Here we share an article by Times of India on how AI and ML have become a necessity rather than an option not only in workplaces but at an individual level as well. Furthermore key business leaders are being adviced to invest in development of talent and skills. A well curated ai and machine learning degree will give you the advanced knowledge required to design intelligent ai algorithms that cater perfectly to their specific industry needs giving you an undeniable cutting edge over others who lack specialized education. Click here to learn more https://rb.gy/vqjqm
Here is an interesting article on career in Artificial Intelligence and machine learning careers and how to break into the AI Field, according to experts Dr. Satya Mallick (https://rb.gy/9gheh ) an accomplished computer vision and machine learning engineer, data scientist, and ai engineer, Jana Eggers( https://rb.gy/g5zq0 ) CEO of Nara Logics an artificial intelligence company focused on turning big data into smart actions and Joanna Bryson ( https://rb.gy/i6dwi ) Professor of ethics and technology Hertie School, Berlin, Germany. Click here to read on http://bitly.ws/EGfK
Team KKMU recommends mastering AI technologies, boosting productivity, and discovering your next must-watch, must-listen, and must-buy obsessions that will help you to get an undeniable cutting edge over others who lack specialized education.
Here are 3 effective and easy to use AI tools to supercharge your productivity
For Emails
Reduce your writing time by 40% with this Chrome extension (link)
For Excel
Describe what you want in plain English and get it converted into spreadsheet formulas automatically. (link)
For Powerpoint
Create beautiful presentations in under a minute (link)
Students, whether you're interested in working for a major corporation or launching your own startup, there's never been a better time to start exploring this exciting and rapidly evolving field. So why wait? Sign up for an AI Courses in Chhattisgarh today and see where your passion for technology can take you!