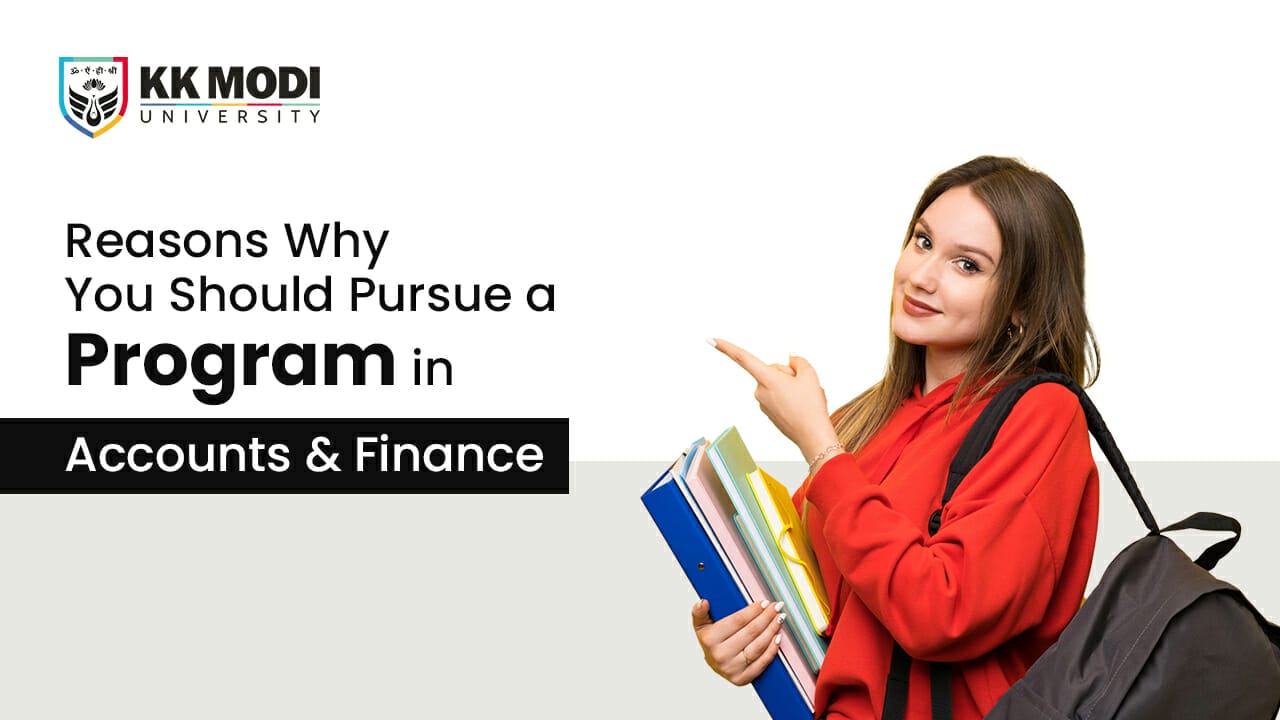 Reasons Why You Should Pursue a Program in Accounts & Finance
In today's world, Finance and Accounts are one of the most sought career options. Students are nowadays more convinced to make a career in the field of finance and accounting. Accounting and finance have great money-making options and thus open up a broad number of industries for opportunities. It is a course with a maximum amount of career opportunities in both domestic and International markets.
Accounting and Finance
Finance in one way involves managing money whereas accounting does the work of recording, analyzing and summarizing business and financial transactions. It defines the study of money, credit, assets, finance, and investment that builds a financial system. In other words, accounting and finance combine the concept of money with business and management. Together finance and accounting cover a large range of institutional processes of reports, evaluation and calculation.
Difference between Accounting and Finance
Basically, accounting focuses on the analysis of data and recording financial transactions whereas, finance mainly concentrates on the management and involvement of money and funds of a business. Accounting includes processing accounts payable and receivable, running payroll, maintenance of cash accounts, tracking assets, tracking liabilities and managing business relationships. Whereas finance means forecasting trends, making strategies for growth, recognising areas of potential financial concerns and working in the organization to identify the areas of opportunities. Together finance and accounting constitute the core of a business and thus decide its growth.
Benefits of studying accounting and finance
In today's rapidly growing world, the need for financial experts and accountants has grown to a greater extent. Thus, this opens up a large range of opportunities for people pursuing their careers in accounts and finance with great benefits.
A stronger base of skills and experience
Bcom Hons Accounting and finance programs develop individuals with strong technical skills and overall business experience. Students can gain their grip on various data and forecasting models, valuation models, data analysis and growth analysis. They also develop strategic thinking and problem-solving skills to help any business make good decisions.
Flexible career path
Students graduating with an accounting and finance degree have a variety of career paths to choose from. Students can pursue their further careers as chartered accountants, stock brokers, forensic accountants, chartered financial analysts, etc. You can also apply for various job positions like HR Marketing Head, CMO [Chief Marketing Officer], CFO [Chief Financial Officer], Auditor, business development manager, and data analyst, or else you can even start your own business.
Higher earning options
The career opportunities in the field of accounting and finance have the greatest pay scale right from entry-level jobs. Finance and accounting need hard work and skill development which helps in a long-term career and also increases an individual's pay scale. Financial Accountants have the potential to earn various high-paying salaries.
Need for Accountants
Choosing an accounting and finance career means one has the skills to work in a profession that is constantly in high demand. Companies from any sector or field require accountants and financial professionals to look after their finances. The high demand for accounting and finance graduates itself ensures higher salaries.
Job security
Job security is the first thing one will look at when choosing a job. In any sector, the positions in the field of Accounting and Finance are considered as a stable field. As finance is an important part of any company, thus it ensures to keep its Accountants and finance officers at any cost. Also as it is an integral part of any company, hence there are always opportunities available in domestic and International markets for finance and accounts graduates.
Variable skills
Pursuing an accounting and finance degree gives you a number of skills that help you in enhancing your CV and make yourself a desirable employee to a range of employers. You will develop strong numerical and quantitative skills, with advanced analytical and problem-solving capabilities. You also develop various skills like communication, time management and organization, general knowledge, awareness of business institutions, representation etc.
Career options in Finance and Accounts
As we have already discussed, having a finance and accounts degree opens up a wide range of career options for you.
CMA (Certified Management Accountant)
A Certified Management Accountant is trained in technologies such as extensible Business Reporting Language (XBLR) to help in conducting the accounting process.
CMA is widely popular as it covers a range of topics in a short period of time. It covers various aspects of management accounting such as risk management, forecasting, budgeting, financial reporting and many more.
The average salary of a Certified Management Accountant is between 6 Lakhs to 10 Lacs.
Chartered Accountants (CA)
It is one of the most popular courses that students follow worldwide. Chartered Accountant is a professional course that covers various aspects of finance and accounting. This includes business accounting, management accounting, business law, financial accounting, financial management, taxation, financial reporting, GST services, etc.
This course includes 3 levels: foundation, intermediate and finals. After completing all three levels the individual is provided with the certification of Chartered Accountant (CA).
In India, the exam and certification for Chartered Accountants are done by ICAI (The Institute of Chartered Accountants of India), a statutory body established by an Act of Parliament, viz. The Chartered Accountants Act, of 1949 for regulating the profession of Chartered Accountancy in the country.
The average salary of a Chartered Accountant is between 8 Lacs to 18 Lacs.
CFA (Chartered Financial Analyst)
It is a professional course that trains the candidate in all aspects of finance such as analysis, estimation, forecasting the future performance of the company, portfolio management, etc. A CFA certification is considered among the topmost designations in the field of finance.
The CFA course includes various areas such as financial reporting, economics, quantitative methods, taxation analysis, equity investment, portfolio management, etc.
The average salary of a Chartered Financial Analyst is between 8 Lacs to 18 Lacs.
FRM (Financial Risk Management)
This financial and accounting course helps the individual to identify the risk factors in a business such as operation risks, market risks, credit risks, management risks, etc. An individual will get knowledge of risk management, valuation, financial markets, money markets, etc.
An FRM Certified individual can get the chance of working with banks, asset management companies, insurance companies, consulting firms, etc.
The average salary of an FRM Certified individual is between 10 lacs to 18 lacs.
CPA (Certified Public Accountant)
Like CA (Chartered Accountant), CPA (Chartered Public Accountant) is also one of the highest professional qualifications related to accounting. It is a popular course in India, America and several other countries. This course includes expertise in financial accounting, financial reporting, taxation, business laws, etc.
This course also has three levels just like CA and the individual can access knowledge about Accountancy, taxation, laws, audit and many more.
The average salary of a Certified Public Accountant is between 8 Lacs to 14 Lacs.
CS (Company Secretary)
CS is a reputed qualification which helps the individual to secure a sectorial position incorporated. Just like CA, a CS qualification is composed of three levels – Foundation, Executive and Professional.
This course helps the individual to monitor the company's activities, organize data from different departments in the institution, supervise daily operations, etc.
The average salary of a Company Secretary qualified individual is 5 Lakhs to 12 Lacs.
Pursue Professional Courses like MBA or M.COM
After completing their bachelor's education, students can always opt to pursue a Master's degree such as M.COM or MBA. It is a great way to complete your education and then go for a high-paying job. Generally, MBA accounts and finance graduates have higher salaries compared to M.COM graduates. M.COM stands for Masters in Commerce, whereas MBA stands for Masters in Business Administration. Students can pursue MBA with specialization in different fields such as MBA in marketing, MBA in Finance, MBA in Operations Management, MBA in Human Resource Management, MBA in Entrepreneurship, MBA in Business Analytics, MBA in Digital Marketing, etc.
MBA is a two-year postgraduate course that provides Business knowledge, Professional networking, Professional marketing and management skills. In India, MBA is the most aspirated postgraduate degree that students desire to pursue. After the MBA students are enrolled in management roles in various institutions. The average salary of an MBA graduate in India is between 12 Lakhs to 18 Lacs.

Also Read: 9 Lucrative Career Options after completing B.Com
Best Colleges in India to study Accounts and Finance
There are many accounts and finance courses after graduation which can be done by the students at India's most prestigious universities such as KK Modi University. It offers MCom Account and Finance.
India is home to some of the great Colleges in the world to study Accounts and Finance. Every year India produces a great number of professional individuals in the field of Accounts and Finance. Among all noted BCom accounts and finance colleges, KK Modi University(KKMU) is best known for its quality education, Phd faculty, internship opportunities and placement drives.
Conclusion
To get a reputed job in the field of accounts and finance, you must have a bachelor's/master's degree in accounts and finance from any prestigious and affiliated university. This sector is never going to stop. Thus, there is much more job security than in other sectors.